The Logo.
**This post is updated regularly as stories of incidents relating to this game surface**
The latest craze to happen so far this year is
Pokemon GO
, a game and app that was released on July 6th, 2016 on Android and iOS, and allows you to "catch Pokemon" in the real world. (
If you're interested in seeing statistics on this game, please check out http://www.insidetheapp.com/pokemon-go-craziness/
). The game features a variety of different ways for you to
catch em' all
and currently only has all of the original 150 Pokemon. The game is free-to-play, although in-app purchases are advertised for additional game-play items.
This game, like any game, has its pros and cons:
Pros:
Eases social anxiety
Has helped many people who have a mental illness, autism, a disability, ETC.
Encourages walking
You get out and get to see and experience more around you and where you live
Cons:
You're still on your phone
You're more distracted now
You could wind up more stressed out
It could make you even less social
It could make people shirk their responsibilities in favor of playing the game
This game could make things worse for those of which have a difficult time separating reality from fantasy.
The biggest con and over-all concern I have however is
safety
:
Since the game is geo-cached and geo-located, it's an easy way to find people wherever they may be or have been, or you can use the "lure" feature to get pokemon and even people to come to you, or you can go to someone else's lure. There's been some cases in Missouri of armed robbers targeting Pokemon GO players using these features to their advantage.
Now, from what I've seen it's mostly teens or adults who grew up with Pokemon who are super into this app, (in a YouTube video there was even a guy who was apparently
50 years old
who was playing this game) but I am willing to assume that kids also play this, hopefully
supervised
since it's a game that you have to go roam around
outside
in order to play it the way it was intended.
With that in mind, it's a concern that, should predators (sexual or otherwise) become aware or start to take advantage of these features, they may use this game to lure people towards them, or even go to the lures of other individuals, in order to hurt or abduct them, or to rob them.
It's apparently so much of a concern that in New York, sex offenders are banned from playing this game while on parole.
People have even gotten hurt from falling and tripping and just not paying attention while playing this game as they were walking, while others have gotten hurt from serious situations brought on by playing this game.
Some examples include: 2 men fell off a
cliff
while trying to catch Pokemon
"Authorities say two men who were playing "Pokemon Go" fell off an ocean bluff in Southern California.
Encinitas firefighters say the men climbed through a fence Wednesday afternoon while playing the digital-monster cellphone game.
One man fell about 50 feet down the side of the unstable bluff and the other fell about 90 feet to the beach.
They were taken to a hospital with moderate injuries."
and a
guy fucking crashed his car while he was playing Pokemon GO.
He wasn't seriously hurt but he could have been, and he could have seriously hurt someone else as well.
""The driver admitted to actively playing the Pokémon Go game while driving, causing him to become distracted and run off the roadway into a tree," the Auburn Police Department said in a press release."
This game could also make people be negligent towards their responsibilities such as a case where
two parents left their 2 year old child all by himself so they could go play Pokemon GO
.
"The 2-year-old boy was found crying outside the family's Arizona home in nothing but a diaper and T-shirt in 96-degree heat, authorities said.
Brent Daley, 27, and Brianne Daley, 25, were arrested on suspicion of child endangerment and neglect, according to the Pinal County Sheriff's Office. They were booked into jail, and their child was taken into state custody.
"Our agency and many other law enforcement agencies have been warning people about personal safety while playing this interactive smartphone game, but we never imagined parents would abandon a child to play Pokémon Go," Pinal County Sheriff Paul Babeu said in a statement. "This goes beyond comprehension."
Authorities first received a 911 call around 10:30 p.m. from a neighbor who spotted the toddler outside the home in San Tan Valley, Arizona. Deputies responded and found the boy screaming and crying. He was outside the home in 96-degree heat without water, and wearing only a diaper and T-shirt, deputies said. He was described as dirty, red-faced, and sweating. Initially, the parents said they had left him while he was sleeping to put gas in their car. But then they admitted they were away for up to 90 minutes playing Pokémon Go, Babeu said.
"They said they were driving around San Tan Valley, stopping at parks and other places to play the game," he added."
"I realized if I keep playing this game, it could literally kill me. I had an hour before I needed to get to work so I threw some clothes on, fired up the app, and set out for an adventure. Very quickly my Pokemon dreams were obliterated by the unfortunate reality that exists for a black man in America. I spent less than 20 minutes outside. 5 of those minutes were spent enjoying the game. One of those minutes I spent trying to look as pleasant and non-threatening as possible as I walked past a somewhat visibly disturbed white woman on her way to the bus stop. I spent the other 14 minutes distracted from the game by the thoughts of countless black men who've had the police called on them because they looked "suspicious" or wondering what a second amendment-exercising individual might do if I walked past their window a 3rd or 4th time in search of a Jigglypuff. When my brain started combining the complexity of being Black in America with the wandering and exploration that's designed into Pokemon GO, there was only one conclusion: I might die if I keep playing. There's a statistically disproportionate chance that someone could call the police to investigate me for walking around in circles. There's a statistically disproportionate chance I will be shot while reaching for my identification in my back right pocket. Let's just go ahead and add Pokemon GO to the extremely long list of things that white people can do that won't get them killed, while Black people have to realistically be wary."
Read more about this
here
.
There are many places who are restricting access or outright banning the game citing security concerns:
"Al Azhar University in Cairo, Egypt, described the game as "harmful mania", and a defense and national security committee parliamentarian regarded it an espionage tool. A Cossack leader declared that it "smacks of Satanism", Kuwait banned the game from government sites, Indonesian officials deemed it a national security threat, and in Israel the IDF banned the game from Army bases out of security considerations. In Saudi Arabia, the General Secretariat of the Council of Senior Scholars declared, in light of a 2001 fatwa banning the Pokémon card game as a form of gambling, that the electronic app required a new ruling. This was also followed by both Indian and Malaysian Islamic leaders telling Indian and Malaysian Muslims to avoid the game. In Thailand, during the 2016 constitutional referendum polling, Pokémon Go players were told to refrain from entering polling stations. Russia has voiced their concerns over the application, with Nikolai Nikiforov, the Minister of Communications and Mass Media of Russia, suspecting foreign intelligence agencies using the application to collect information, while some religious groups claim it to be demonic. The High Council of Virtual Spaces in Iran officially banned the game on August 5 over security concerns." - SOURCE
I don't blame any of those places, people or governments for their actions, considering someone has actually died while playing this game now, and he's not the only one.
"The 20-year-old man was shot and killed while playing 'Pokemon Go' near San Francisco's Fisherman's Wharf, a popular tourist destination along the waterfront, authorities said Sunday.

The shooting of Calvin Riley occurred about 10 p.m. Saturday in Aquatic Park, said Sgt. Robert Jansing, a detective with the U.S. Park Police. Aquatic Park is adjacent to Ghirardelli Square in San Francisco Maritime National Historic Park.

Riley was walking on the promenade along the water and playing the popular cellphone game when he was gunned down. The assailant did not take any of Riley's property or attempt to rob him, Jansing said.




Investigators were puzzled by what led to the slaying.

"There doesn't appear to be any outstanding motive right now," Jansing said.

Although the shooting occurred late at night, several people were still at the park, which annually sees about 4 million visitors, said Lynn Cullivan, a spokesman for the park."
I feel I am being completely realistic when I say that, while this game may be a huge hit and there's so many people who love it,
it's only a matter of time before someone else dies
while playing it. This game is a fleeting fad, as there's only so much you can do with it (unless they add in
all
of the Pokemon, which, given the
very little
their servers can handle, it's not likely that that would be possible). I guarantee you that
this is
not a game worth risking your life for
. Nor is any other game for that matter.
Please, be safe, responsible, aware, and cautious...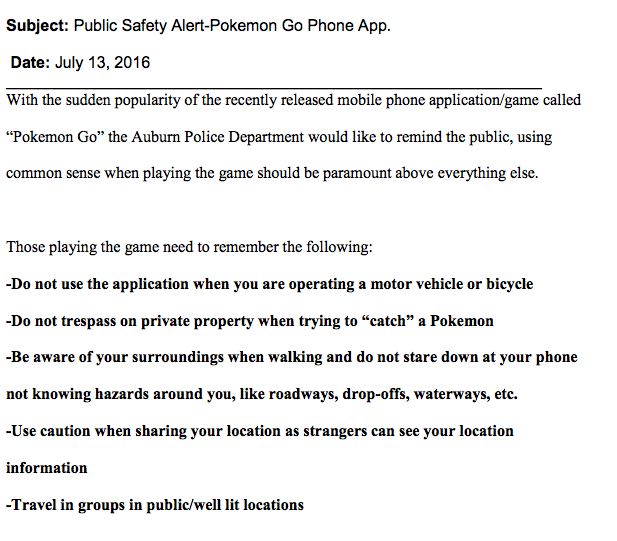 ----------------------------------------------


Aside from the safety hazards, this game, in general, has brought on many a strange happenstance, such as when a man was apparently caught cheating when his now ex-girlfriend had noticed that he "caught a pokemon" at his previous ex-girlfriends house:
"The mobile game leads players to virtual creatures located in the real-world, using a phone's mapping software to record where each Pokemon is captured.
And that means anyone snooping around a player's phone would be able to see his or her whereabouts at a given time.
"She saw that I had caught a Pokémon while at my ex's house," Scribner said.
And when the Sunnyside, Queens resident didn't have a good excuse as to why he was wandering around his ex's Brooklyn neighborhood, his gal pal said see you later Feraligatr.
"She found out last night at my house and hasn't contacted me since then," Scribner said."
And when
a guy quit his job as a bartender to play Pokemon GO full time
"Tom Currie worked as a barista and bartender at a seaside restaurant on the Hibiscus Coast near Auckland, but has decided to jack that in to find digital creatures on his phone instead.
He says he's relying on friends and family to help out but admits his parents are "a little bit baffled".
Since beginning his quest to find all the monsters, Tom says he's caught 91 of the 151 Pokemon available in the game.
He says the travel has been the best part of playing instead of going to work every day. "I get to walk around and explore towns I've never been to," he says. Tom says he will go back to work once his Pokemon adventure comes to an end.

"
This game has even turned a mans home into a Pokemon Gym
(
probably because this game supposedly designated churches to be gyms and this mans home is a converted old church
) and now tons of strangers keep showing up on or around his property for their game.
And since church's have apparently been designated as automatic Pokemon Gyms, for some reason, that means that the
Westboro Baptist Church, of all places, is now a Pokemon gym
.
"Pokémon Go, the massively popular, GPS-enabled augmented reality game, which sends players out into the real wold to collect "pocket monsters" and release them into combat against other players' monsters, is largely centered around gyms—locations where players battle for control and the attendant bragging rights that come with it. Game locations range from a public park in your neighborhood to, um, the 9/11 Memorial Pool at Ground Zero in Manhattan.
The Westboro Baptist Church building in Topeka, Kansas, is one of those locations. Like everything else about the controversial religious group—infamous for staging protests against same-sex marriage during events like the funerals of soldiers and celebrities—Nintendo's selection of the church has inspired conflict.
At first, a Pokémon trainer going by the handle Pinknose took control of the gym using a Clefairy named 'LoveIsLove' after the slogan promoting same-sex marriage. Now, they're fighting back with, apparently, a Jigglypuff.
In an interview with USA Today, church elder Steve Drain said the church's location as a gym is a "great opportunity to spread its message to a younger generation". "This little church, as despised and vilified as we are, the location of this church will be "memorialized" throughout eternity," he insisted. "We're willing by God's grace to say that homosexuality is wrong, and that's what we've been known for, even though we preach the whole counsel of God.""
Some other weird places for PokeStops or the like have included a strip club, the church of Scientology, and various cemeteries.
Remember that one time
a girl was playing Pokemon GO and happened upon a real dead body?
"The death appears to be accidental in nature and possibly that of a drowning," the sheriff's department told County 10 in a statement. "There is no evidence at this time that would indicate foul play. Evidence located at the scene has led investigators to believe the man went into the water at the location he was found."
Well,
a man has also recently found a dead body
in or around Salmon Brook behind the Holocaust Memorial in Rotary Park whilst out and about playing Pokemon GO after the game led him to the area.
"Police in Nashua, New Hampshire are investigating after a man playing Pokemon GO found a man's body in a popular park.
The body was found floating in the water at around 2 p.m. in Salmon Brook right off of Main Street.
Police said the man was playing the augmented reality game when he spotted the dead body. Rescue crews then pulled the body to the water's edge.
Police are investigating to determine how the man ended up in the water.""
Another woman was playing Pokemon GO and
stumbled into a location covered with spider webs
made by spiders who were apparently fleeing from rain.
"Leslie Schmidt was playing Pokémon Go with her boyfriend last Sunday in Yinnar, Victoria, when the couple stumbled upon a magical and ridiculous sight: a whole park covered in spiderwebs. The abnormal spiderweb phenomenon has happened in Australia before. During periods of high rainfall or flooding, spiders are often forced to seek higher ground. It's also possible that the webbing is a result of baby spiders getting caught in the wind while parachuting with their webbing attached, Schmidt said."
A woman, on craigslist, had made a listing
looking for a job as a professional Pokemon GO trainer,
but her listing has since been deleted.
I'm sure there will be other people looking to become a professional Pokemon GO trainer as well.
Some locations, restaurants for example, are making it so that if you want to catch a Pokemon at their location you must be a paying customer first.
Probably because they're tired of players wandering in
just
to catch a pokemon or two.
Apparently
there's now a dating service for Pokemon GO players. (https://www.projectfixup.com/pokedates/)
"The service matches users based on a questionnaire and then coordinates a time and a PokéStop to meet at. It was created by Project Fixup, a pre-existing dating service.
To get started, you have to make a Project Fixup account. From there, you can select "PokéDates" as your preferred type of date.
Your first PokéDate is free. After that, you must either refer friends or pay $20 per date."
There's even been someone who's apparently
already caught all 142 of the Pokemon
that are available to be caught so far. (
Of the missing nine, three (Farfetch'd, Kangaskhan, and Mr. Mime) are only available outside the country, and six (Articuno, Ditto, Mew, Mewtwo, Moltres, and Zapdos) have never been spotted anywhere and are believed to be uncatchable at this time.
)
"Nick Johnson, 28, the Brooklyn-based "Pokémaster", told BuzzFeed he walked an average of eight miles a day for two weeks to complete his collection, and in that time, he got to level 31, caught 4,629 Pokémon (609 of which were Pidgeys, lol), hatched 303 eggs, walked a grand total of 153 kilometers (about 95 miles), and lost a whopping 10 pounds — and yes, he has a job."I work 50 hour weeks, sometimes more," Johnson, who works at a tech company called Applico, wrote. "So I do that during the week, and then after that, I would go out at about 6:00 PM and stay out basically until I had to go home and pass out.""
After catching the initial 142 pokemon,
he then went on a mission across the globe for the rest (except for the legendaries)
. He went to Sydney, Australia for Kangaskhan, Europe for Mr. Mime, and Hong Kong for Farfetch'd (fitting name for a Pokemon, right?)
----------------------------------------------



----------------------------------------------
TIPS & INFO:
First and foremost, if you're new to this game or Pokemon in general, here's some terms used throughout the game, maybe even any Pokemon game in general, that you'll need to know.
The information listed below is just a basic description of these things. For more in depth information feel free to visit:
http://www.serebii.net/pokemongo/
PokeStops - You visit these locations, dotted all around your map, to get items that you need to play the game.
PokeBalls - Used to catch and obtain Pokemon.
Incense & Lure Modules - Used to attract pokemon and lure them to your location.
Gyms - Available starting at Lvl 5, these gyms are located at churches, points of interest, and even landmarks, and they're where you and your Pokemon can go to fight other players and their Pokemon.
Factions - Teams. There's about 3 teams: Instinct, Mystic, and Valor.
Candy & Stardust - Can be used to make your Pokemon stronger and more evolved.
Razzberries - Can be used to feed to and earn the trust of harder to catch Pokemon.
Some
additional game info
is:
The highest trainer level is apparently 40.
Some pokemon are more likely than others to escape, but all pokemon are slightly more likely to escape as you level up.
The legendary Pokemon -- Articuno, Moltres, Zapdos, and MewTwo -- have a spawn rate in the game code so they will show up eventually, but apparently they also have a capture rate of 0 so they would be impossible to catch by normal means, but the master ball is also in the code so you may have to obtain that in order to catch a legendary Pokemon.
This is a quick list of each element type, and what opposing types of Pokémon are best-suited to take them down:
Normal - Fighting
Fire - Water, Ground, Rock
Water - Electric, Grass
Electric - Ground
Grass - Fire, Ice, Poison, Flying, Bug
Ice - Fire, Fighting, Rock, Steel
Poison - Ground Psychic
Fighting - Flying, Psychic, Fairy
Ground - Water, Grass, Ice
Flying - Electric, Ice, Rock
Psychic - Bug, Ghost
Bug - Fire, Flying, Rock
Rock - Water, Grass, Fighting, Ground, Steel
Ghost - Ghost
Dragon - Ice, Dragon, Fairy
Steel - Fire, Fighting, Ground
Fairy - Poison, Steel
TIPS:
1
.) Do you want to catch a Pikachu as your starter Pokemon? Well, when the Professor asks you to catch your first Pokemon, (usually Squirtle, Charmander, or Bulbasaur) you can simply walk away until your phone vibrates and you're once again prompted to catch one of the three starters. Walk away again until you, again, get the prompt and repeat this 4 to 5 more times. After that a Pikachu should appear and you'll be able to catch it then.
2
.) Turn off your AR. The game uses your phone's camera to overlay the Pokemon into the real world. Allegedly it also makes it harder to catch Pokemon, so you can simply turn off your AR to center the Pokemon on the screen and make it easier to catch.
3
.) As the games servers are frequently overloaded, the game can crash or severely "hang" after you catch a Pokemon. Meaning: it sits motionless in its PokeBall. Don't panic, just force quit the game, re-open it, and in the crash you will either have caught the Pokemon automatically or it will be spawned and waiting for you.
4
.) Niantic, the game devs for Pokemon GO, used maps from within it's previous game Ingress. You can use those maps to find PokeStops: Portals on Ingress's maps translate to PokeStops.
5
.) If you want to save some power on your battery, you can go to settings and turn off basically everything aside from vibrate so you'll know when a Pokemon appears. Turning off your AR, as mentioned previously, can also save some battery power. You can also try the "battery saver" option if you want to, but apparently it can wind up making your game freeze more than it already might and all it does is make the screen black when you're walking and/or not looking at your phone.
6
.) What you name your Eevee determines which evolution Eevee will undergo, which is usually random.
Sparky = Jolteon
,
Rainer = Vaporeon
, and
Pyro = Flareon
.